COVID-19 Vaccination Newsletter 8 January 2021 (html version)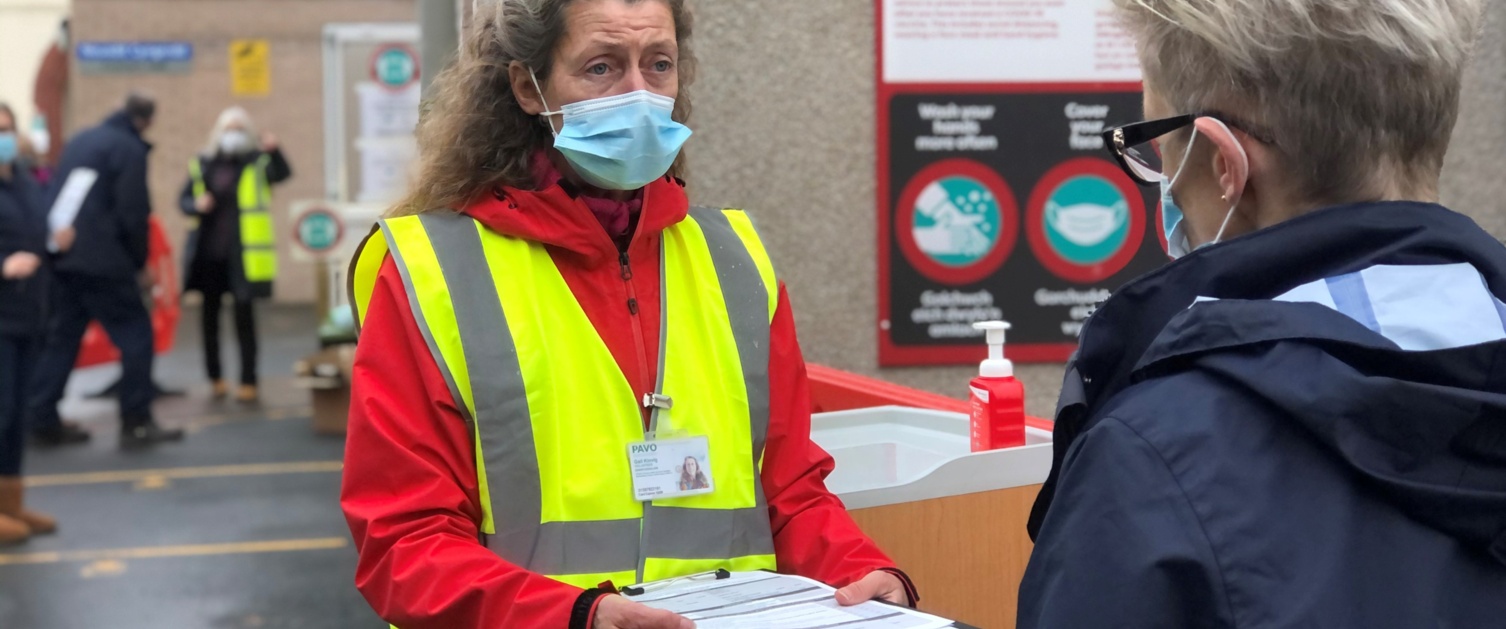 This bulletin is also available as a downloadable pdf. More information about COVID-19 vaccination is available from our COVID-19 vaccination page.
---
Dear Colleagues
With COVID-19 vaccination being such an important issue for all of us I wanted to provide you with a brief update on our progress here in Powys and the next steps, and to share an invitation to an online Q&A on Tuesday 12 January (more details below).
Please do accept my apologies that this briefing is in the English language only at this stage. The fast pace of change on COVID-19 vaccination means that I did not want to delay sending this update to you, and further bilingual information is attached.
Here in Powys we are making very good progress in delivering COVID-19 vaccination, but I recognise that there is still a long way to go.
So far, over 5000 people have been vaccinated through the Powys vaccination programme. Nearly 3000 invitations have already been sent to people aged 80 and over in the county, inviting them to book an appointment at our mass vaccination centres in Newtown, Builth Wells and Bronllys. This represents around a third of our 80+ residents, and everyone aged 80 and over will receive their invitation during January.
Alongside this, great progress has been made on vaccination for residents of care homes for older adults. At the time of writing, nearly half of our care home residents have received their first dose vaccination. Nearly all will have received this by the end of next week.
Our mass vaccination centres are set to be joined this month by GP practice-led vaccination clinics across the county. The first of these opens next week in Presteigne, with clinics set to follow across Powys. This will increase access and availability for people for residents.
Vaccination is by appointment only, and we are following the guidance on priorities set by the UK's independent Joint Committee on Vaccination and Immunisation (JCVI). This means that vaccination is currently under way for the JCVI's top priority groups:
Care home residents
People aged 80 and over
Health and care workers – to help protect the vulnerable people in their care, who are most at risk of catching coronavirus and developing serious illnesses
Following this, vaccination will begin for people in the next priority groups.
If someone is in a priority group, they will receive an invitation when they are due for their vaccination. They don't need to apply for an appointment – please don't contact your GP, pharmacy, health board, hospital or local authority about an appointment.
The next priority group is people 75 years of age and older, followed by each of these groups in turn:
People 70 years of age and older, and people who are clinically extremely vulnerable (also known as the "shielding" group) – people in this group will previously have received a letter from the Chief Medical Officer advising them to shield
People 65 years of age and older
People aged 16 to 64 with underlying health conditions, which puts them at higher risk of serious disease and mortality
People 60 years of age and older
People 55 years of age and older
People 50 years of age and older
As mentioned, these priorities have been set nationally by the JCVI. Together these groups represent around 99% of preventable deaths from COVID-19.
Soon we will be able to confirm the timetable for invitations to the next priority groups. But this week our focus has understandably been our invitations to the most vulnerable people – the over 80s and care home residents – and putting in place our plan for ramping up our capacity even further in the coming weeks.
Following this first phase of the UK-wide COVID-19 vaccination programme, further recommendations are awaited from the JCVI. The advice from the JCVI is that the focus for the second phase should be on preventing further hospital admissions and vaccinating those people who are at increased risk first.
It is very clear that the arrival of the COVID-19 vaccines is a source of hope. We all begin to look forward to a return to normal life in time.
But the vaccination programme will take time, and we are very grateful for your support and patience.
On this note I know that our over 80s have faced some challenges in contacting our booking teams. Please do bear with us, and improvements to our booking and appointment systems are being made every day.
The key messages for everyone are:
Everyone in Powys aged 80 and over is being invited for vaccination in January.
Vaccination of care home residents is also well under way.
Following this, invitations will be sent to people in the next priority groups.
Please wait to be contacted, and thank you for your patience.
You will receive your invitation when you are due for your appointment, based on the priority order across the UK).
Please don't contact your GP, pharmacy, health board, hospital or local authority about an appointment.
Good progress is being made in Powys – we currently have the highest levels of vaccination per head in Wales – and we will all see the vaccination programme continue to expand during January and beyond.
As the vaccine is rolled out, we all need to follow the safety rules and keep ourselves and our families safe.
To do this, we all need to meet as few people as possible; wash our hands regularly, wear a face covering and keep our distance from others.
By taking these important steps for ourselves, and for those around us, we can all play our part to Keep Powys Safe.
Alongside this, you must self-isolate if you or anyone in your household has symptoms These are: high temperature; a new continuous cough; a loss of or change to your sense of smell or taste.
If you have symptoms then get a test. Local testing units are available across the county. Home testing kits are available if you cannot travel.
You can book a test online at www.gov.uk/get-coronavirus-test
You can book a test by telephone by calling 119 between the hours of 7am and 11pm. Calls are free. If you have hearing or speech difficulties call 18001 119.
If you do test positive then please help our local contact tracing team to stop coronavirus in its tracks. Our local Powys contact tracing team is here to protect your health and the health of others, and is part of our Test Trace Protect partnership between Powys Teaching Health Board and Powys County Council.
We all hope the vaccine will lead to a better and brighter 2021 and an end to this pandemic.
Thank you for everything you are doing to Keep Powys Safe, and I look forward to the opportunity to answer your questions at our online event on Tuesday (more details are below). Please do feel free to share this information in your organisations, networks and communities.
Carol Shillabeer
Chief Executive, Powys Teaching Health Board