Keeping Well While You Wait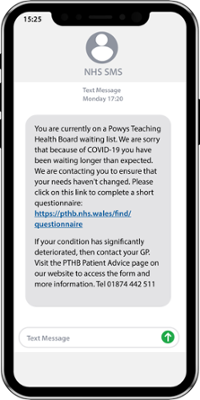 Many patients have been waiting a long time to receive the treatment they need due to the COVID pandemic. We are working hard to see patients as quickly as possible.
To help us understand if patients' circumstances have changed over the last year, we are using a new text message and online question service. Follow the link in your text message to let us know if you still need your appointment.
We have partnered with our digital solutions provider, Healthcare Communications to provide this service.
If you do receive this text message, please do not ignore this - your response is crucially important to help us manage our waiting list.
If you need any further assistance, please call 01874 442 511