Powys Teaching Health Board breaks the 30,000 COVID-19 vaccinations given marker in its winter vaccines push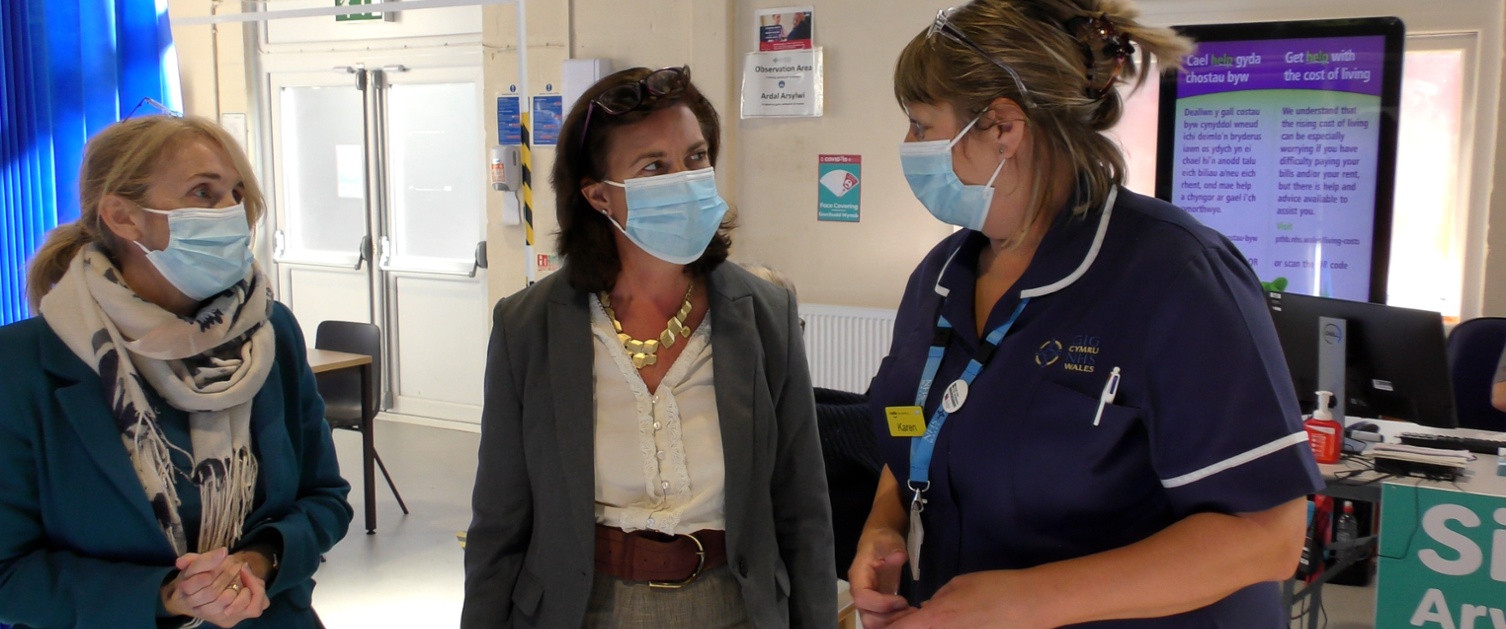 Teams of vaccinators across Powys Teaching Health Board's Mass Vaccination Centres have already delivered more than 30,000 free COVID-19 vaccines as part of the winter respiratory vaccinations campaign. Vaccination is our best defence against viruses this Winter.
The Minister for Health and Social Care, Eluned Morgan MS, visited the Mass Vaccination Centre at Bronllys Hospital recently. During her visit she spoke about the importance of both the COVID-19 and flu vaccinations and encouraged everyone that is eligible to take up their vaccination offer.
On the COVID-19 vaccination she said: "If you are eligible, you should receive your invitation by the end of November. And please do all that you can to attend the appointment you are offered, as this will help us offer boosters to everyone as quickly as possible."
The winter respiratory vaccinations campaign includes vaccinations for at-risk groups for COVID-19 and flu. Across the county members of the public who are deemed at greatest risk from COVID-19 infection, including in-patients, residents in social care settings, the over-50s and health board and care home staff, have been vaccinated.
Mererid Bowley, Powys Teaching Health Board's Director of Public Health said: "COVID-19 and Influenza are circulating now. Vaccination is the best thing you can do to protect yourself from the potentially serious effects of an infection from COVID-19 and flu. We know from bitter experience that both infections can kill, but thankfully our Mass Vaccination Centres and General Practices across the county are working together to protect the public.
"Powys Teaching Health Board is calling up all eligible adults, including members of at-risk groups, for their COVID-19 vaccines, while GP surgeries are working hard to issue invitations and deliver flu vaccines too. Our COVID-19 reserve list is now open to all over-50s in the county who are registered with a Powys GP and can travel at short notice to our Mass Vaccination Centres in Newtown, Llandrindod Well or Bronllys. If this describes you then please register at https://pthb.nhs.wales/autumn-reserve."
The winter respiratory vaccinations campaign is encouraging all people to 'Power Up Their Protection' from serious illness caused by COVID-19 and Influenza.
Eluned Morgan continued: "The flu vaccination is available if you are: aged 50 or over; a child aged two to 16 years; are pregnant; or are aged from two to 49 years and have a long-term health condition that puts you at increased risk from flu. If you have not yet had your flu vaccination and are eligible, please check with your GP for further details."
The call-up for the flu vaccine this year is especially important, as Public Health experts are forecasting a significant flu season this winter for the first time since the pandemic began. There are concerns that cases of flu may start earlier this year and affect more people. As a result, Powys Teaching Health Board is now urging anyone who is eligible for a free flu vaccine to take up the offer to protect themselves and others from serious illness this winter.
Released: 25/10/2022