Thank you to the Royal Welsh Agricultural Society as the COVID Vaccination and Testing Centres move from the Showground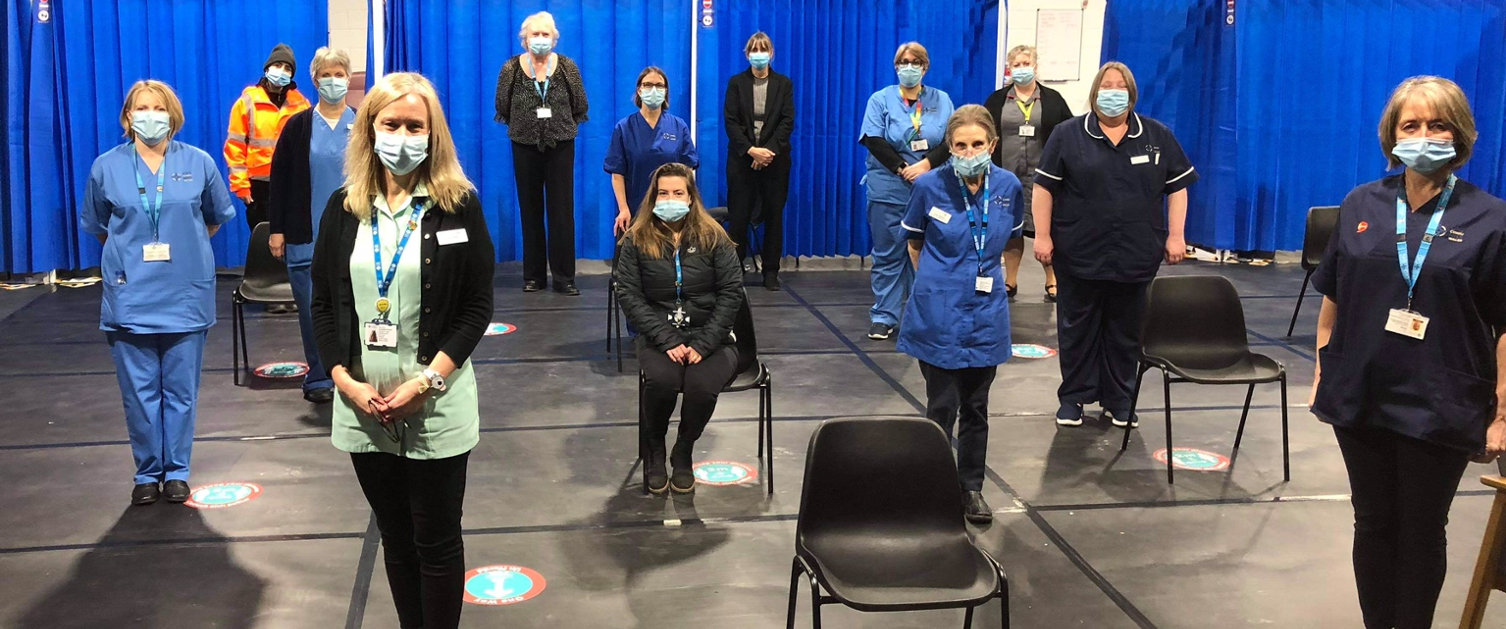 After 17 months and over 62000 vaccine doses the doors have closed at the COVID-19 vaccination centre at the Royal Welsh Showground.
Adrian Osborne, Programme Director for COVID-19 Vaccination and Test Trace Protect with Powys Teaching Health Board said: "The success of the COVID-19 vaccination programme in Powys has only been possible because of the very generous support of the Royal Welsh Agricultural Society. The Green Pavilion has been our home since January 2020, and thousands of people have visited for their first & second doses, first boosters, and more recently for their spring boosters.
"Because of the vaccination programme and Test Trace Protect we are steadily able to return to those activities that were not possible during the necessary restrictions of the COVID pandemic. So, whilst our team is sad to say goodbye to the Showground, this is also a time of joy and hope as the county prepares for the first Royal Welsh Show since 2019.
"As a country we are all now trying to find the right way to live with COVID, so it is vital that everyone continues to follow the latest guidance to Keep Powys Safe. COVID is very much still with us, as can be seen from the recent uptick in cases. Take up the offer of COVID vaccination. Remember that outdoors is safer than indoors. If you have symptoms, stay at home and avoid contact with other people."
Steve Hughson, Chief Executive of the Royal Welsh Agricultural Society said: "The Royal Welsh Agricultural Society was delighted to be able to provide our facilities rent free to support the vaccination and testing programmes as part of the fight against COVID. We are pleased that we have played a part in this successful programme, but now we must look ahead to our first Royal Welsh Show since 2019, which looks like it will be a bumper show."
A new vaccination centre is set to open in Llandrindod Wells later this month, in the former Welsh Government building, ready to provide autumn boosters when eligibility is confirmed by the UK's Joint Committee on Vaccination and Immunisation.
The spring booster programme has now ended in Wales. In line with national guidance the spring booster was offered to people aged 75+, residents of care homes for older adults, and people aged 12+ with severe immunosuppression. If you were eligible for a spring booster but you were unwell during June and not able to take up your invitation then contact the health board to arrange an appointment as soon as possible.
More information is available from the health board website at pthb.nhs.wales/spring-booster or by calling the COVID-19 vaccination booking hub on 01874 442510.
With changes to COVID testing taking place across the country, the COVID testing centre has also moved from the Showground. More information about COVID testing in Powys is available from the health board website at pthb.nhs.wales/covid-test