Fancy getting active? Try walk and talk rugby!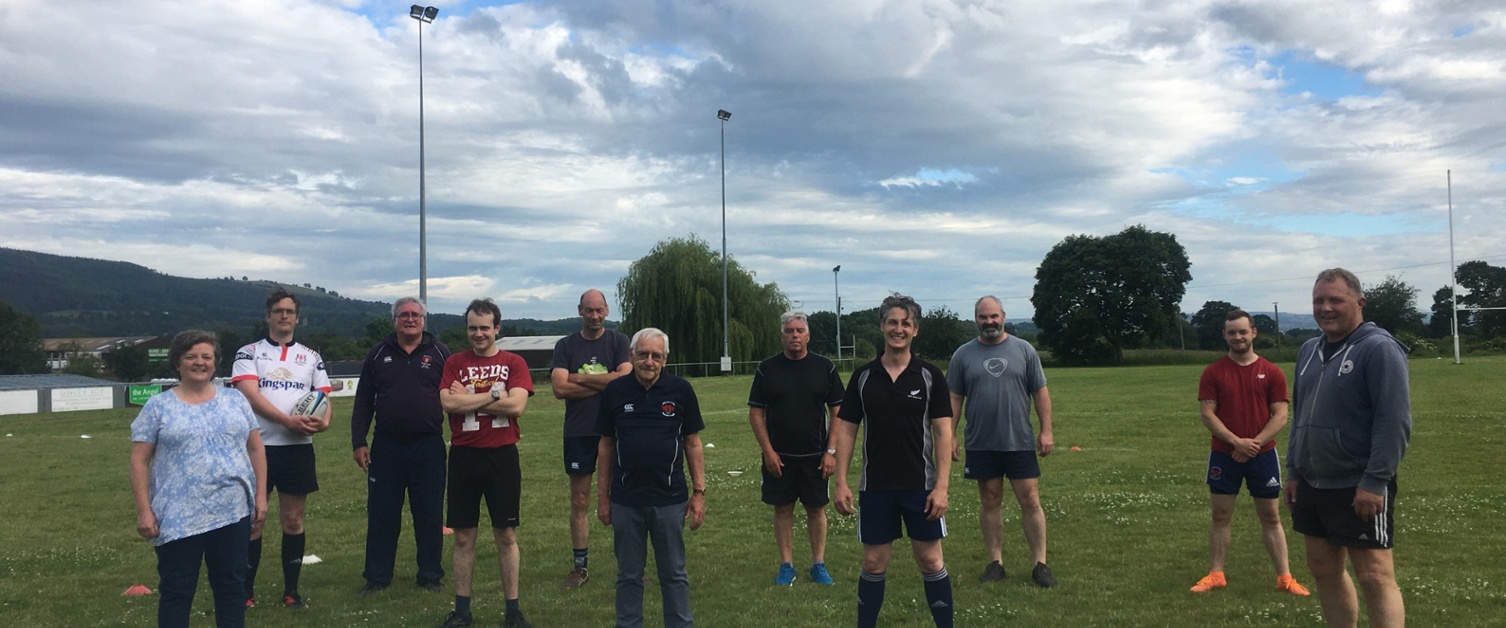 Walk and Talk rugby sessions at Welshpool Rugby Club are going from strength to strength and are now calling for more people to get on the pitch.
The sessions are open to men and women of all ages and take place every Thursday evening. With no tackling and no running, it is a fun way to play rugby, get some exercise and meet new people.
David Roberts is Chairman of Welshpool Rugby Club. He explains:
"We have been running the sessions for six weeks and it's great because it's open to everyone who wants to get more active without any barriers. We have a number of people coming down who haven't played for many years but have found this an offering that allows them to continue to enjoy the sport they love. We are also delighted with the number of women who are taking part."
While the sessions are open to everyone and are seeing many past players reengaging with the sport as well as beginners, the club is also working in partnership with Ponthafren Association:
"We want a culture within the club that is supportive of people's mental wellbeing," says David. "We know that men, in particular, don't tend to seek support or talk to their friends about their mental health, so sports clubs like ours are in a unique position where we can reach audiences.
"But, of course, we're not mental health experts which is why we're providing wraparound support from Ponthafren. But the club is a great way to get the message out there and encourage people to be more open about their mental health," he added.
Mark Forsyth, 54, from Pant has been attending the sessions. He said:
"I used to play rugby but I have been at a loose end since retiring from the game. I was fed up that I couldn't play. I saw the poster for Walk and Talk Rugby and I've been coming for four or five weeks. I thoroughly enjoy it. My work involves a lot of driving and I wanted to get the muscles working differently. And in terms of mental health, the last few months have been very isolating so it's nice to meet some new faces again."
Janet Hall from Manafon has never played rugby before but has been really enjoying her Thursday evenings on the pitch:
"It's quite a workout, even though we are walking, but it doesn't risk injury and it isn't aggressive. It's important to be active and, after lockdown, it's good to be sociable too. I have asthma so it's important for me to be physically active."
Meanwhile, Mike Carter, 78, from Forden comes to the sessions with his son Tom, 39.
"I used to play rugby for my school and I was captain. The last game I played was In Argentina in 1963. I was in the Merchant Navy and I played for my ship's company. I also go swimming twice a week. It's important to keep fit – it has kept me healthy - but I also enjoy it."
The coaches at Welshpool Rugby Club are all set to receive mental health training in September so they can identify the signs and symptoms of mental health illness. Parents of junior players will also have the opportunity to receive mental health awareness training while a Mental Health First Aid training course is also due to be scheduled.
Julia Gorman, Senior Delivery Manager of Ponthafren Association, said:
"We have found a 60/40 divide in the numbers of women and men accessing our services. Often women will reach out for support more easily than men and we hope with this project we can help bridge that gap.
"By being present at the rugby sessions and visible in the community, we can encourage more people to access our services."
Ponthafren operates centres in Newtown and Welshpool as well as an outreach in Llanidloes.
The Welsh Government's Help Us Help You campaign is highlighting projects across Wales which encourage us to improve our health and wellbeing.
Joy Garfitt is the Assistant Director for Mental Health and Learning Disabilities from the Powys Teaching Health Board. She said: "There are small things we can do to help improve our health and wellbeing by being more active, eating well and protecting our mental health. This is a great example of a club doing some really positive work.
If you are struggling with your mental health, there is free support available to you. The NHS Wales SilverCloud online programme can help with anxiety, depression and stress. You can self-refer at https://nhswales.silvercloudhealth.com/signup
You can also self-refer to Ponthafren Association for counselling at www.ponthafren.org.uk or call 01686 621586.
If you fancy trying Walk and Talk Rugby, contact droberts@wru.wales. Sessions take place at the Maes y Dre Playing Field in Welshpool every Thursday from 6-7pm.