More Powys Health and Care Academy students take up work placements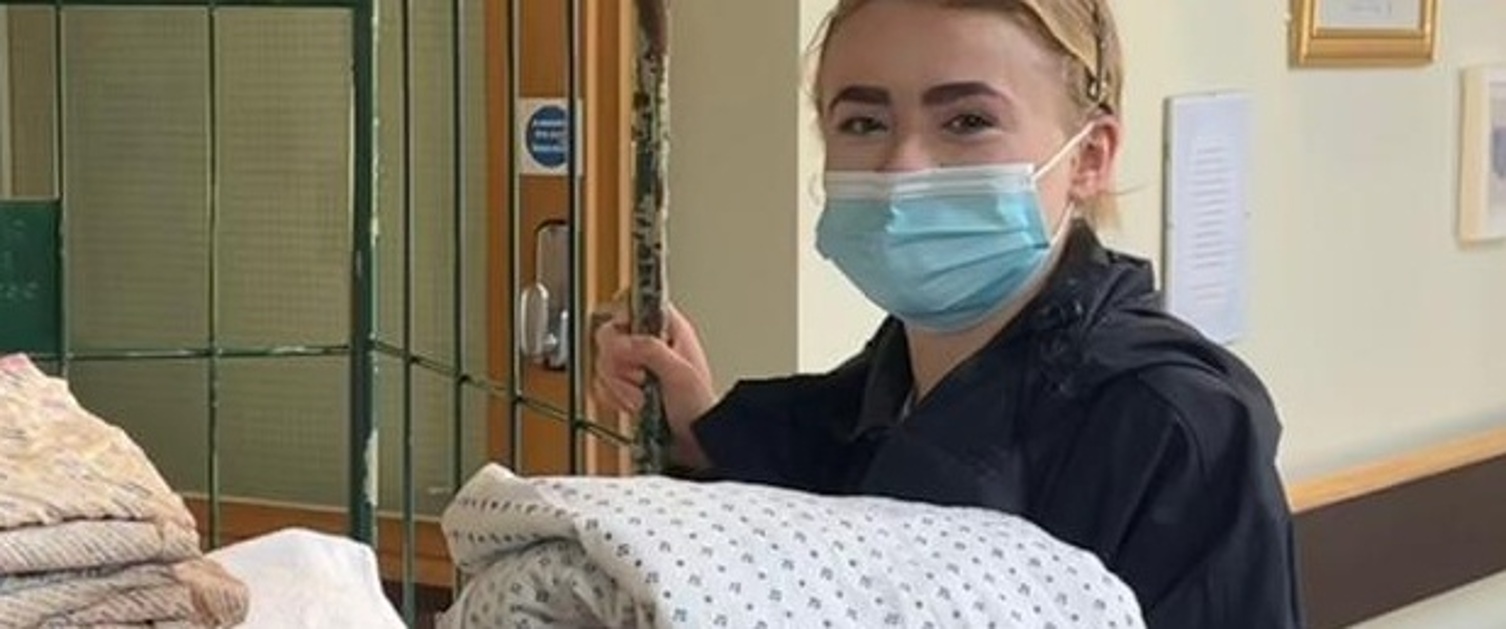 A second wave of recruits to the new Powys Health and Care Academy have begun their work placements, supporting hospital services in Llandrindod Wells, Ystradgynlais, Newtown and Brecon.
Young adults have taken on roles with the domestic and porter teams at Llandrindod Wells and Ystradgynlais Hospitals, with the catering team at Newtown Hospital, providing administrative support to the Community Services Department at Newtown Hospital and as a support worker at the Children's Centre in Brecon, as part of the UK Government-funded Kickstart Scheme.
As part of their health and social care placements, 25 hours a week for the next six months, they will undertake a programme of learning, equipping them with skills and knowledge related to the health and social care sector, training to help them secure future employment and coaching from a workplace mentor.
Through the academy, the Kickstart Scheme is supporting employers – including Powys Teaching Health Board (PTHB), Powys County Council (PCC) and Powys Association of Voluntary Organisations (PAVO) – to create jobs for 16 to 24-year-olds on Universal Credit, who are at risk of long-term unemployment.
The new students include Kimberly Owen, aged 20, who has taken up a dual placement supporting the domestic and porter teams at Ystradgynlais Hospital.
"So far it's been great," said Kimberly, who is from Ystradgynlais and has been in post for around six weeks. "The staff here are so lovely and helpful, and I've really learned a lot about the health board and the NHS in that small amount of time.
"The reason why I choose this work placement is because I thought it was a fabulous way of offering new opportunities to young adults. It's a bit different to my previous job roles but it caught my eye as they were specifically looking for young people who were actively looking for work.
"I've always wanted to get into the NHS as a future career choice as they have so many opportunities and roles there, and I've always been interested in the care giving side of it. So, I'm looking forward to the next five months!"
Her workplace mentor, and Hotel Services Supervisor, Steph Connick, added: "Kimberly has settled in very well within the department and her standard of work is excellent. She has demonstrated both respect and kindness towards her work colleagues and is very enthusiastic to learn more about the role."
There are also health and social care Kickstart Scheme vacancies available through the academy for domestic/porter and catering assistants in Welshpool, Machynlleth, Llanidloes, Bronllys and Brecon, support workers in Llanidloes, Newtown and Llandrindod Wells, and administrative assistants in Bronllys, Newtown and Welshpool. For further information speak to your DWP (Department for Work and Pensions) Work Coach at your local Job Centre.
Powys Health and Care Academy (HCA) has been set up by Powys Regional Partnership Board (RPB) which is made up of a range of public bodies and other representatives, including PCC, PTHB and PAVO, who are working together to improve the health and wellbeing of the county's residents.
Cllr Myfanwy Alexander, Chair of Powys RPB, said: "We are very keen to use all possible methods to encourage people to discover what a career in care might mean for them. There are a variety of opportunities available, and I would recommend anyone to take a closer look to find what suits them."
Powys HCA will be offering face-to-face and digital learning opportunities through four schools – a School of Research, Development and Innovation, a School of Leadership, a School of Volunteers and Carers, and a School of Professional and Clinical Education and Training – to employees in the health and care sector, to those looking for a career in the sector and to volunteers and unpaid carers who support the sector.
It is also offering advice and training to those looking for a new career in health and social care, with the help of NPTC Group of Colleges, through the Powys Health and Care Academy Skills Hwb.
To find out more call 0845 4086 253, email arwain@nptcgroup.ac.uk or search 'Powys Health and Care Academy Skills Hwb' online.
For other enquiries about Powys HCA, please contact: Powys.OD@wales.nhs.uk