New garden for Llanidloes hospital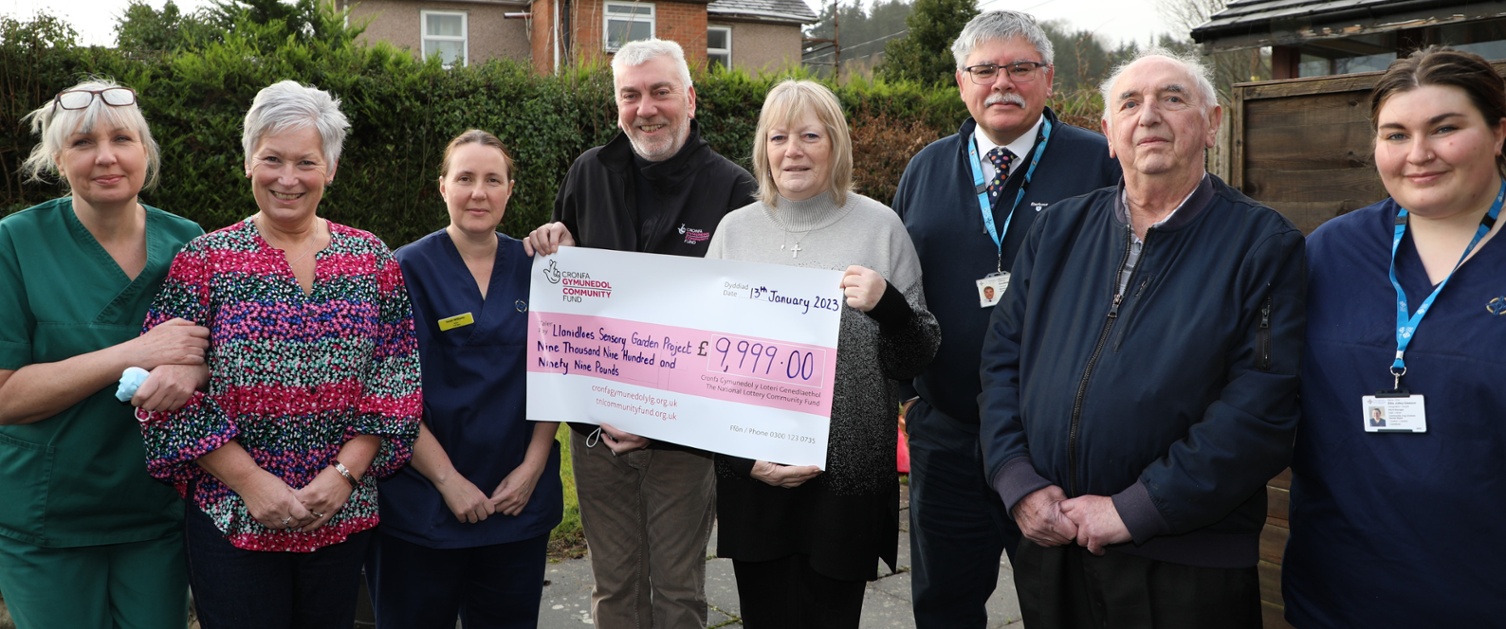 The Llanidloes War Memorial Hospital is to get a new sensory garden thanks to funding from its League of Friends and The National Lottery's Community Fund.
Situated next to the hospital's Palliative Care Suite - which is known as the Garden Rooms - the new garden will be for the use of all patients, staff and visitors to the hospital.
Work on the garden will start this year with an Autumn completion target.
Speaking on behalf of the League of Friends, President Nye Jones, commented: 'The League of Friends has received £9,307 in donations from the families and friends of patient cared for in the palliative care unit. The money will go towards the creation of the new garden."
"The palliative care unit in Llanidloes hospital – The Garden Rooms - was established through funds raised entirely by the League of Friends and the community and opened in 2018."
Rob Roffe, Head of the Mid and West Region for the National Lottery Community Fund in Wales congratulated the project on their £9,999 grant saying: " Thanks to National Lottery players we award £30,000 of grants a week to community groups across the UK , over eight in ten (83%) of our grants are for under £10,000 – going to grassroots groups and charities like the Llanidloes War Memorial Hospital that bring to life amazing ideas that matter to their communities.
"Patients at the hospital, their friends and relatives, and the Town Council have shown they support the project, the community has offered help with the planting and the continued upkeep of the garden, we look forward to it opening later this year, " added Rob.
Tony Goodman, is Powys Teaching Health Board's Business Manager for the north of the county and he is managing the project. He commented: "We're delighted that The National Lottery Community Fund has been able to add to the amazing fund-raising that our local League of Friends has carried out. This garden will provide an excellent addition to the services provided at the hospital in Llanidloes and will, I'm sure, provide a beautiful location for patients, visitors and staff to relax."
The gardens have been designed in a way which will highlight the scent, colour, feel, shape and movement of the plants and will be accessible to wheelchair users as well as those on foot.
The project has been designed in partnership with the League of Friends as well as hospital staff themselves.
Photo: Pictured at the garden are (from left) Health Care Assistants Sharon Brown and Tracey Spooner, Junior Sister Sara Williams, Guy Jones of the National Lottery Community Fund, former Senior Sister Christine Bryant, Business Manager (North) Tony Goodman, Nye Jones of the League of Friends and Senior Sister Ellie Jolley-Dawson.