Powys Teaching Health Board wins top accolade for patient self-management at the Nursing Times Awards 2022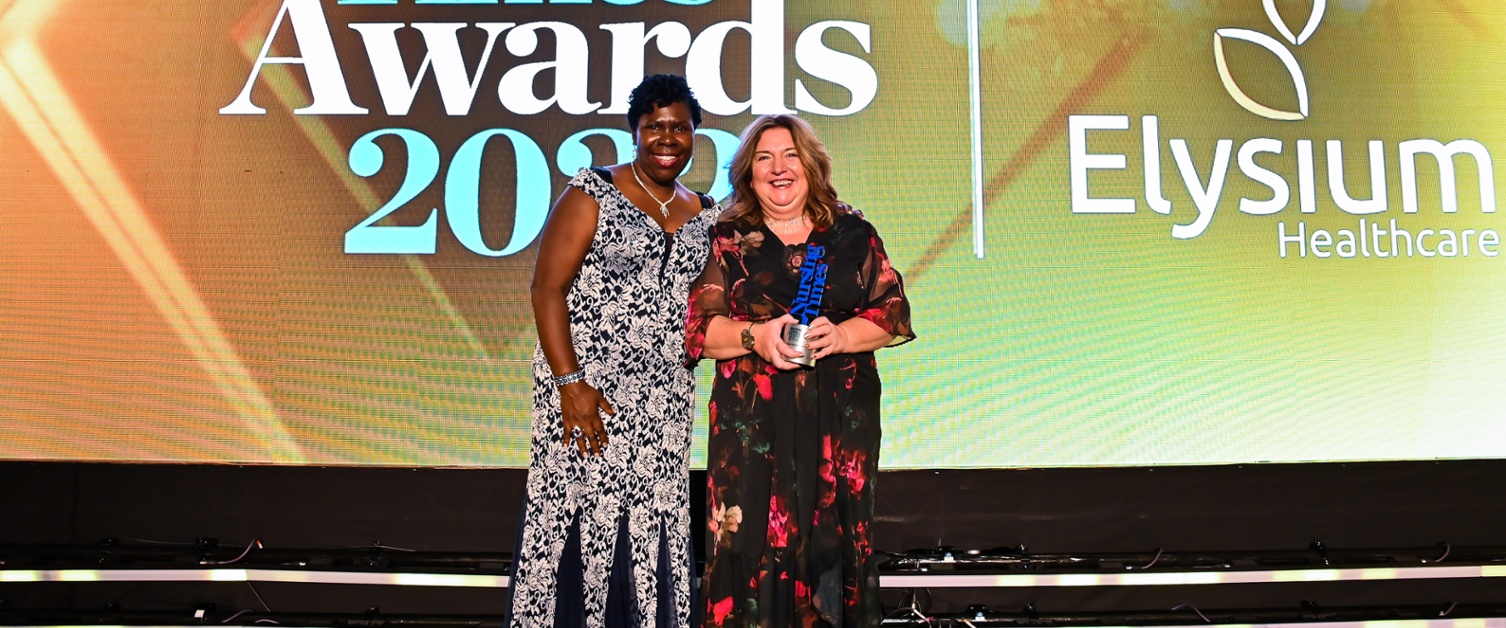 A nursing team at Powys Teaching Health Board have been recognised at the Nursing Times Awards 2022, collecting the award for promoting patient self- management for their work on bladder and bowel dysfunction.
Led by Jen Walsh, Paediatric Continence Nurse Specialist, the team has pioneered the use of mobile technology to help children and young people self-manage bowel and bladder problems.
Jen Walsh explains: "The incidence of potentially preventable and treatable bladder and bowel dysfunction in children and young people is increasing. Unless treated these problems can continue into adulthood where they can negatively affect personal wellbeing, which will in turn effect overstretched healthcare services. Our initiative aimed to use digital technology to streamline and transform care for children and young people."
The Powys team have designed an App, called MObile Paediatric Engagement Esolution for Continence or MOPEE-C for short, to support children and young people to self-manage bladder and bowel dysfunction and record symptoms.
In the future this ground-breaking App will allow children and young people easy and discrete access to learn about their condition, receive more home-based treatments and diagnostics, help with self-management, and access to remote therapeutic support from clinicians.
"The MOPEE-C prototype was developed through a collaboration with our Welsh technology industry partner Aparito," continues Jen, "and following informal testing, the feedback we've received from patients, carers and clinicians has been universally positive."
The Nursing Times judging panel said this innovation really brings together the benefit of strong nurse leadership, research, and digital solutions to transform the lives of a difficult to reach, complex and challenging population. The development of this innovation, mHealth-prototype (MOPEE-C), has allowed for increased home-based treatments and diagnostics, improving patient access to clinicians and use of health services. The outcomes have included increased self-esteem and addressed unmet needs.
Jen adds: "As a team, and a health board, we're absolutely delighted that our work has been recognised on a national scale. As we progress the research that sits behind this prototype, we will make a positive difference to children and young people throughout the county," she concludes.
The prototype was developed with another Welsh success story, the award-winning Wrexham-based health technology company Aparito. Dr Elin Haf Davies, Chief Executive Officer of Aparito said: "We are thrilled and delighted to hear of Jen's recent NT Award.
"This is a true testament to the perseverance that she has demonstrated to push this work through - despite the odds, and numerous obstacles! Very well deserved indeed!"
The Nursing Times Awards showcase the innovation and best practice of nurses and midwives across the UK, providing an opportunity to celebrate and share all that is good about the nursing profession.
Steve Ford, editor of Nursing Times, said: "The quality of entries is consistently high each year and to be shortlisted, let alone win a category, is a great achievement that marks out individuals and teams as truly special and ground-breaking in their area of work.
"Our winners are special every year and I hope that our awards can go some small way to recognising the effort and skill shown by nursing staff in providing high quality care, whatever the specialty or setting and despite the enormous challenges they continue to face."
Published: 07/11/2022