Second Phase of Wales Air Ambulance Service Engagement to Take Place from October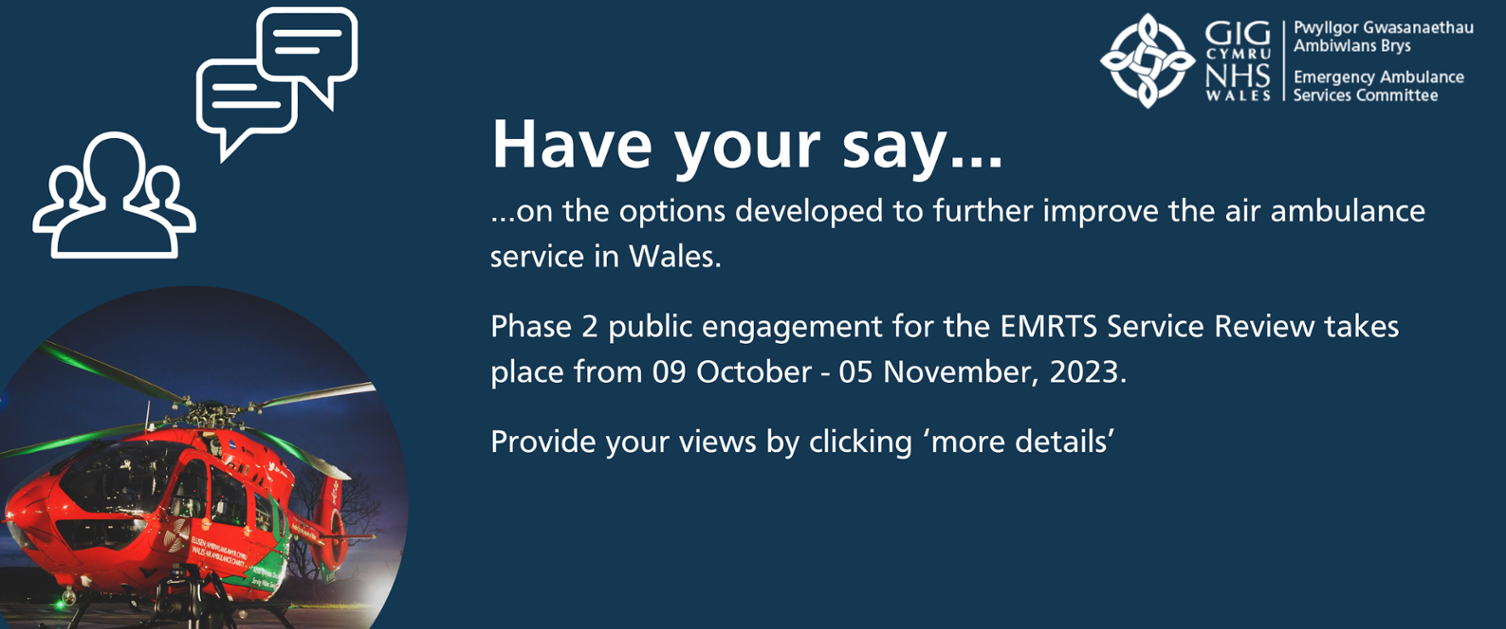 The second phase of the Emergency Medical Retrieval and Transfer Service (EMRTS) Review about how to further improve the air ambulance service in Wales - that is provided in partnership between the Wales Air Ambulance Charity and NHS Wales' EMRTS – will take place between 09 October and 05 November, 2023 for public feedback.
Phase 2 public engagement sessions will run from Thursday 12 October until Friday 20 October inclusive through a combination of informal drop-in sessions, in-person public meetings - in Welshpool, Newtown, Machynlleth, Bangor and Pwllheli - and virtual/on-line sessions using Microsoft Teams.
As well as the engagement sessions timetable, the public will be able to provide their comments from 09 October until 05 November through a range of methods including post, phone, and online forms.
The engagement documents will also be available from 09 October.
The first phase of the all Wales public engagement, that began in March 2023, focused on listening to comments, queries and gathering of feedback on how to develop options to further improve the air ambulance service in Wales.
Stephen Harrhy, the Chief Ambulance Services Commissioner tasked with leading the independent review, is now encouraging the public and stakeholders to comment as part of Phase 2 where he will still be listening to public and stakeholder comments on the options developed before a decision is made later in the year.
Mr Harrhy said: "Following the feedback we gathered through a range of methods during Phase 1, my team has been working on developing options, and complementary data modelling has also been underway, that I now want to test with the public and stakeholders in Phase 2.
"We have had to focus the in-person engagement events on the areas where there has been the highest level of interest an attendance in Phase 1 which is why we are hosting in-person engagement sessions in Powys and Betsi Cadwaladr Health Board areas, as well as offering online sessions for those who may prefer online or be unable to attend in-person sessions.
"There is also a telephone answer service and online feedback form to give people as much opportunity as possible to comment on what is being shared."
Mr Harrhy continued: "I stressed at the end of Phase 1 that no decision had previously been made on this issue and this second phase gives me an opportunity to share what has been heard in Phase 1 and demonstrate how this has been applied to the options developed.
"I have been grateful for the constructive dialogue that we had in Phase 1 and I'm hopeful that Phase 2 will be equally as helpful to me in arriving at a preferred option that I will then be able to recommend formally to the Emergency Ambulance Services Committee for their decision."
Details with confirmed times and venues for Phase 2 public engagement are published on the EASC website EMRTS Service Review - Emergency Ambulance Services Committee (nhs.wales) whilst updates are also being sent to stakeholders, as has been done throughout the engagement.
"The passion for the air ambulance service is evident and it has been clear that there is a collective desire - between the public and stakeholders to work together with the Charity and EMRTS - to make this great partnership service even better for our communities in Wales."
Venue

Format

Date

Time

Welshpool Town Hall,

42 Broad St, Welshpool SY21 7JQ

Public Drop-in

Thursday 12 October

12:00 – 15:00

Welshpool High School

Salop Rd, Welshpool SY21 7RE

Public Meeting

Thursday 12 October

18:30 – 19:30

Theatr Hafren

Newtown Campus, Llanidloes Rd, Newtown SY16 4HU

Public Drop-in

Friday 13 October

12:00 – 15:00

Newtown High School

Dolfor Road, Newtown, Powys, SY16 1JE

Public Meeting

Friday 13 October

18:30 – 19:30

Machynlleth Rugby Club

Plas Grounds, Bank Lane, Machynlleth SY20 8EL

Public Drop-in

Monday 16 Oct

12:00 – 15:00

Ysgol Bro Hyddgen

Greenfields, Machynlleth SY20 8DR

Public Meeting

Monday 16 Oct

18:30 – 19:30

Bangor City Council Offices

Ffordd Gwynedd, Bangor LL57 1DT

Public Drop-in

Tuesday 17 Oct

12:00 – 15:00

Bangor City Council Offices

Ffordd Gwynedd, Bangor LL57 1DT

Public Meeting

Tuesday 17 Oct

18:30 – 19:30

Plas Heli

Glan y Don Industrial Estate, Yr Hafan, Pwllheli LL53 5YT

Public Drop-in

Wednesday 18 Oct

12:00 – 15:00

Ysgol Glan Y Mor

Pwllheli LL53 5NU

Public Meeting

Wednesday 18 Oct

18:30 – 19:30

Microsoft Teams Live Event

Virtual Public Meeting

Thursday 19 Oct

18:30 – 19:30

Microsoft Teams Live Event

Virtual Public Meeting

Friday 20 Oct

13:00 – 14:00