Vaccination Heroes: Firefighters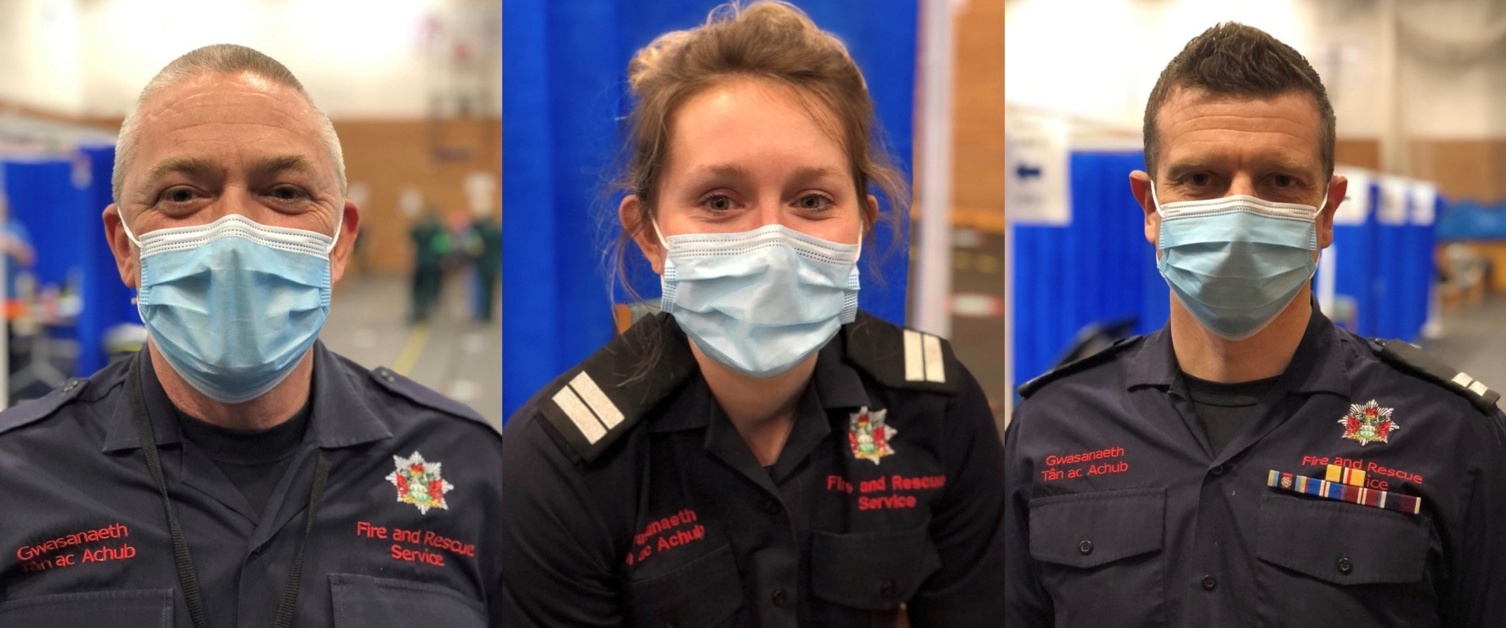 In the last few weeks a new group of vaccine heroes has joined our team and while they are new to vaccination, they are not new to being heroes.
If you have been to either Builth or Newtown Mass Vaccination Centre recently you may have seen a new uniform on show – fire fighters.
We have teamed up with Mid and West Wales Fire and Rescue to help with the vaccination process and 10 fire officers have joined the team delivering vaccinations. Initially seconded for three months, these fire fighters are really helping with the efforts to vaccinate as many people in Powys as possible, as quickly as possible.
Ffion Evans is an on-call fire fighter as well as being a personal trainer. She said "I'm loving working alongside the health board staff. It's nice to be doing something different and to be able to help. Sometimes people are a little surprised to see us here, but with the military being involved as well people are appreciative of how so many different groups are working together to deliver the vaccine."
Neil Morrison is also an on-call fire fighter and also runs his own printing business. He explained "It's hard work but it's great to be able to do my bit. The quicker we can get everybody vaccinated the better. I became a fire fighter to help people and so when the chance came to help with vaccinations it seemed the right thing to do. We work here when we are not on-call so there is no risk of us having to rush off on a shout!"
Tim Nettleton is another on-call fire fighter and also an Arborist. Tim also used to be in the RAF. He told me "Being a vaccinator has been a great opportunity to help and also to meet people. Having a shared background with colleagues from the RAF who are also working here has helped to bring the different teams together. It's a really great team and everyone works well as a unit."
Chris Davies, Chief Fire Officer for Mid and West Wales Fire and Rescue Service said: "We collaborate with our multi-agency partners, across a wide range of activities, in order to serve our communities in the most effective manner.
The response of our colleagues in the National Health Service has been exceptional during this global pandemic and I am pleased that Mid and West Wales Fire and Rescue Service can assist Powys Teaching Health Board to distribute vaccines at its mass vaccination sites in Newtown and Builth Wells.
Whilst we already collaborate with the Welsh Ambulance Service Trust and Hywel Dda University Health Board, this opportunity allows us to expand our assistance further within the health arena. Now we have a model in place, we are in a position to provide support to other partners within mid and west Wales as required.
Our relationship with the people we serve puts us in a unique position. On top of this our staff are community focused and trained to work with people from all walks of life. This combination has allowed us to react quickly to this request for assistance.
This partnership is one that is going to make a positive impact on our response to this global pandemic and we are pleased to be able play our part and collaborate with our NHS partners to change the lives of many people."
Over the past four months of vaccination the makeup of the team has changed slightly with new groups of staff coming into the process. But the one thing that has never changed is the teamwork and determination to protect the community.
Thank you to all of our heroes.
More information about COVID-19 vaccination is available from our COVID-19 vaccination pages.