Vaccination Heroes: redeployed vaccinators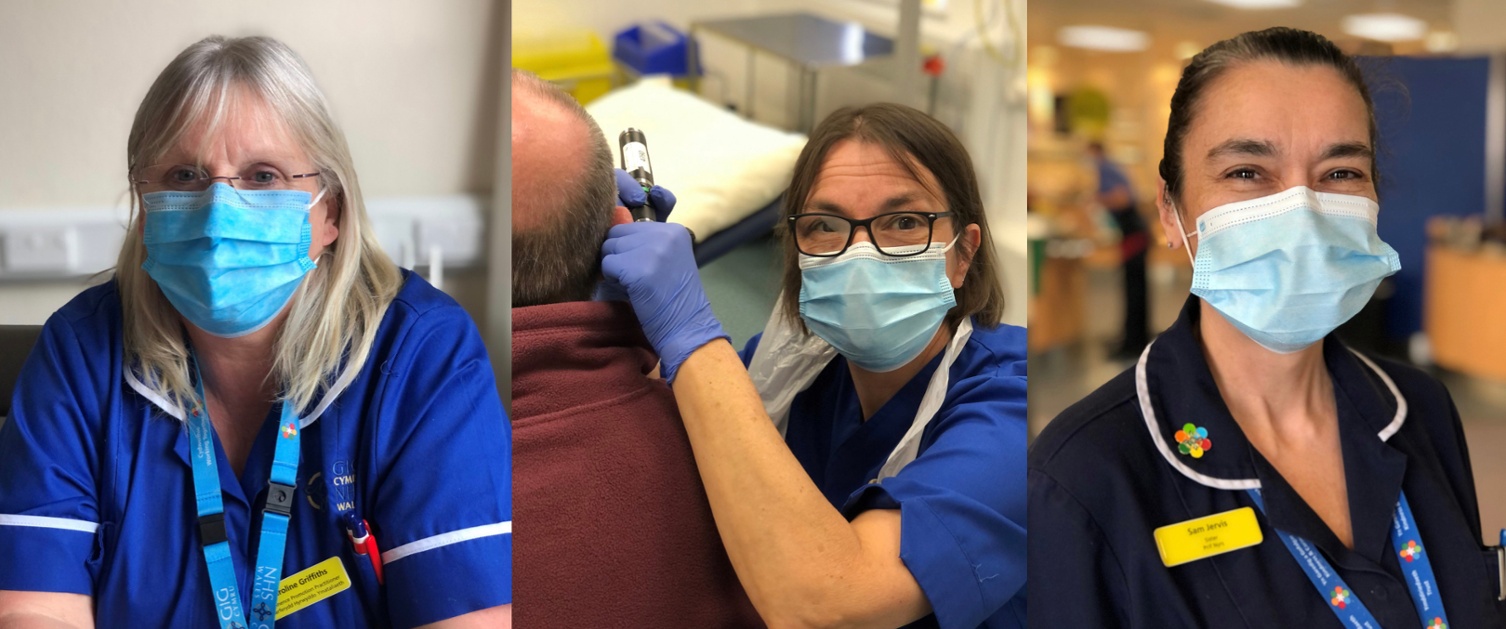 In December last year we put together the vaccination programme at incredibly short notice. The programme relied on huge amounts of goodwill and many staff being redeployed from other areas. Now that we have settled into a more routine way of working, and other areas of work are becoming busier again, new vaccinators have been recruited and those redeployed staff are returning to their original jobs.
Nothing like this vaccination programme has ever been put together so quickly. Vaccination staff were redeployed from a wide range of roles including School Nurses, Physiotherapists, Continence Nurses, Specialist Nurses and many other roles. And, of course, many other people in the vaccination centres came together from other roles as well.
However, despite the fact that people came from every corner of the health board and beyond, they created an amazing cohesive team straight away and have now delivered over 100,000 vaccines in Powys.
Sandra Williams is a Specialist Ear Care Nurse. She explained "Because of COVID I wasn't able to see my ear care clients face-to-face for a long time. Instead I ran telephone consultations giving guidance and support but it's not the same. As a result, we had some spare capacity which meant I was able to offer to be redeployed into the Mass Vaccination Centre in Bronllys.
As we are starting to be able to open up more and more outpatient clinics again I have now moved back to my role as a Specialist Ear Care Nurse full time and new vaccination staff have been recruited and trained. It was fantastic being part of the vaccination team. I felt like I was part of an effort that was off to save the world. But it's also really rewarding to be back offering ear care services and to help people to hear better."
Some people were redeployed full time and some were redeployed part-time, depending on the size of the team they were coming from and how much that team's workload had been affected by COVID restrictions.
Caroline Griffiths is a Continence Nurse from Newtown. She worked in the Newtown Mass Vaccination Centre part-time from December. "I was able to join the MVC because our service was a little quieter than normal due to COVID. I was therefore able to work part time in the vaccine centre and part time in my continence role.
Working in the vaccine centre was fabulous and a privilege. We felt like we were helping get the country back on its feet. I met so many wonderful people both in and out of the health board that I would never have met before. Seeing people come in for their vaccine who may not have left the house for almost a year was extremely emotional and it was an honour to be able to support them.
The service was built from nothing and has had to change on an almost weekly basis and it was amazing to see how everyone was able to adapt."
As these amazing people return to their previous roles they seem to have conflicting emotions; glad to be able to open up their old services again but missing the people they have worked so closely with over the past few months.
Sam Jervis is a Care Transfer Coordinator based in Hereford Hospital. She told me "It was absolutely amazing to be part of the team. Everyone from the volunteers to the military, from the clinical staff to the IT staff were fantastic and worked as a great team. Regardless of their grade or background we all pulled together.
As a Care Transfer Coordinator I am used to working independently. Being part of such a big team has been wonderful and it was a bit of a wrench to leave them. I'm still in contact with many of the team, people I didn't know before hand. I would like to say to them 'keep up the good work, you are all amazing'"
There are so many amazing people working tirelessly to deliver the vaccine in Powys and we are so incredibly grateful to them all. But it is also great to see that other services are starting to reopen, ensuring we deliver the best care we can across the county, not just protecting against COVID but also the myriad other services we need.
Thank you to you all.
More information about vaccination in Powys is available from our COVID Vaccination pages.