Vaccine success in Powys, but social distancing and personal hygiene are still the best solution to avoiding coronavirus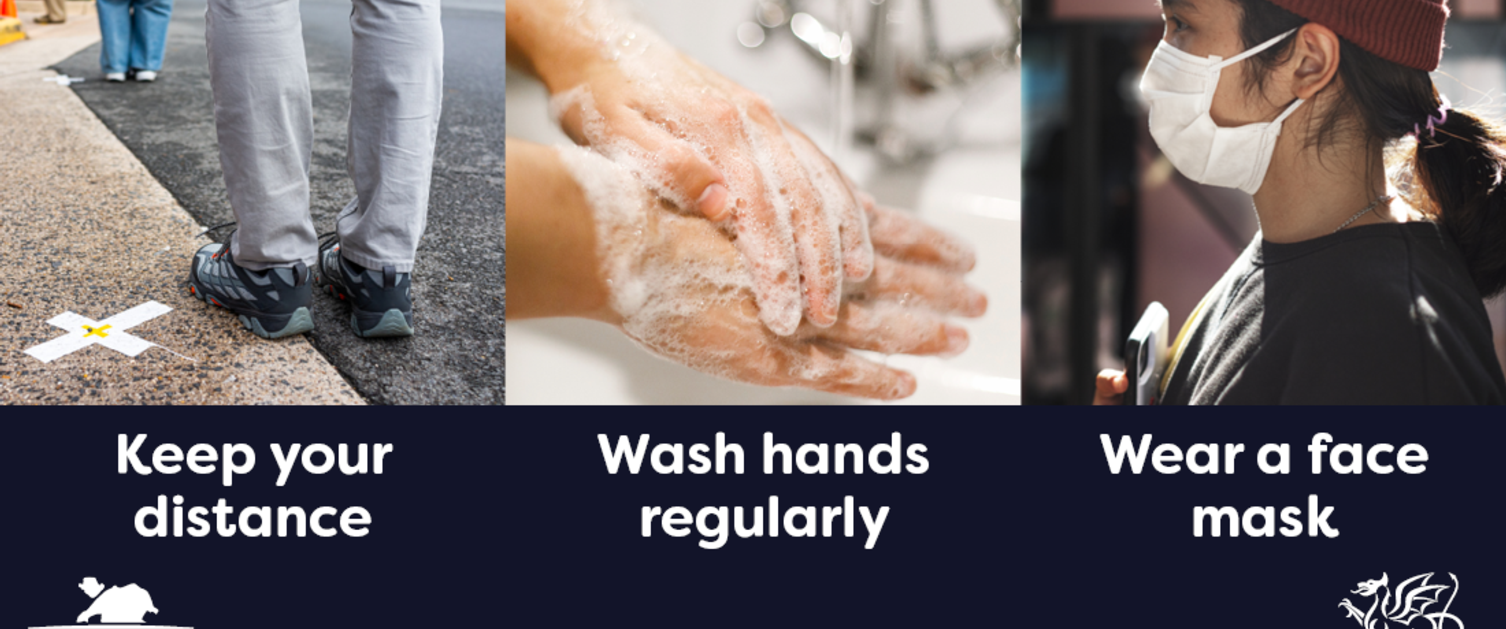 Health chiefs are remining people in Powys that Hands Face Space remains critically important.
The Powys mass vaccination programme is gathering pace across the county, with over 7000 people having received their first vaccination at one of three main centres in Newtown, Builth Wells and Bronllys, including over 1000 care home residents and in-patients in our community hospitals. Next week, all 16 GP practices will also be joining the programme to help us deliver our goal to provide a vaccination for everyone in the nine national priority groups by the spring.
Whilst the new vaccines will provide a level of protection from coronavirus, residents are reminded that by following national guidelines on personal hygiene, maintaining social distancing and limiting the amount of people we come into contact with, are still the best ways to avoid catching the virus and passing it on to family, friends or work colleagues.
Alison Merry, Deputy Director of Public Health in Powys commented; "Vaccines offer a good level of protection from the virus, strengthening our immunity to combat future infection. But good personal hygiene, regular hand washing, using sanitising gels and liquids where possible, wearing a face mask and maintaining a 2m distance from one another in all public areas still offers the best protection from catching the virus.
"We know the new variant spreads more easily from person to person, and the rate of infection remains high in Powys. We urge residents to self-isolate and to get a test if they feel unwell and are showing any of the signs and symptoms of the virus. These include a new continuous cough, high temperature (fever), loss of or change to sense of smell or taste."
There are two national testing centres in Powys, Newtown and Brecon where you can walk, drive or cycle for a test, two mobile testing units that are currently situated in Llansantfraidd-ym-Mechain and Llandrindod Wells for drive-through only, and a further local testing centre in Builth Wells for drive-through appointments only. If you are unable to travel to a testing centre or mobile testing unit, you can request a Home Testing Kit, delivered to your home.
Please remember, all of Wales is in lockdown (alert level 4) where people must follow national guidelines and:
stay at home

meet only the people you live with

work from home if you can

wear a face covering where required

wash your hands regularly

stay 2 metres from anyone you do not live with
More information about what we will all need to do at Alert Level 4 is available from the Welsh Government Website at What you need to do at alert level 4.
Appointments in Llansantffraid-ym-Mechain, Llandrindod Wells, Newtown and Brecon can be booked through the UK Government national booking portal, either online at www.gov.uk/get-coronavirus-test, by phone on 119, or 18001 119 for people with hearing or speech difficulties. This is also the way to request a home testing kit.
Residents in and around Builth Wells can make an appointment at the local testing unit by calling 01874 612228 or online at powys.testing@wales.nhs.uk.
For more information about COVID-19 testing in Powys, visit the health board's website at www.pthb.nhs.wales/coronavirus/coronavirus-testing
More information about the COVID-19 vaccination programme is available from COVID-19 Vaccination - Powys Teaching Health Board (nhs.wales)