Celebrating 1 year of the South Wales Trauma Network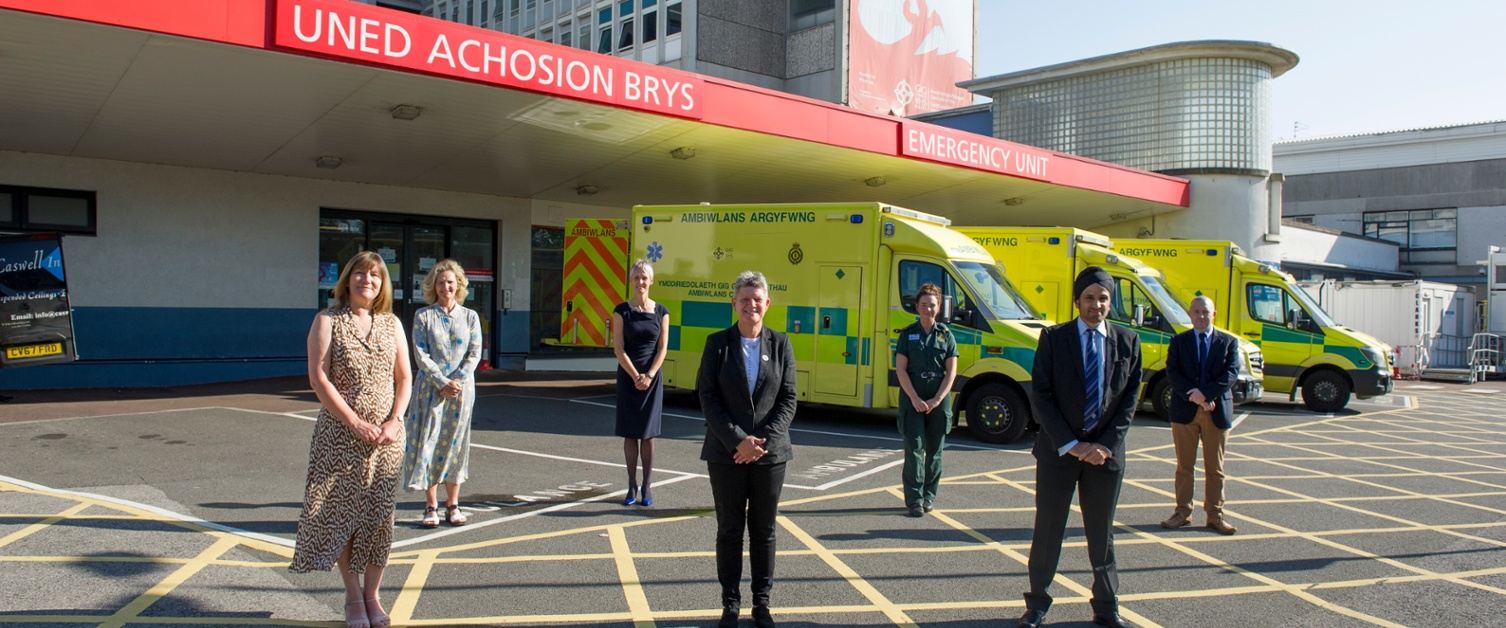 The South Wales Major Trauma Network is the trauma network covering South and West Powys. Residents of east and north Powys who access acute hospital services in England receive their trauma care through the North West Midlands and North Wales Trauma Network (trauma units include Royal Shrewsbury Hospital and Wrexham Maelor Hospital) and the Birmingham, Black Country, Hereford & Worcester Trauma Network (trauma units include Hereford Hospital).
In September 2020, the South Wales Trauma Network was established, marking a major step forward in the delivery of emergency care across South Wales, West Wales and South Powys. The network which is made up of hospitals, emergency response services and rehabilitation services, ensures patients with life-threatening and life-changing injuries receive the best possible treatment and care.
Major trauma, which refers to multiple and serious injuries, is the leading cause of death in people under the age of 45 and is a significant cause of disability and ill health.
The Adult and Children's Major Trauma Centre, based at University Hospital of Wales in Cardiff, is Wales' only specialist neurosurgery hospital and home of the Children's Hospital for Wales. As major trauma is relatively uncommon and complex to manage, services provided in the Major Trauma Centre are highly specialised and available around the clock. The centre collaborates with and supports hospitals across the network.
In its first year, the Major Trauma Centre has treated nearly 1,300 patients with life-threatening or life-changing injuries, as a result of vehicle incidents, falls, sports injuries and other events.
Dindi Gill, Clinical Director for the network, said: "The South Wales Trauma Network has proven to be an essential life-line to patients experiencing major trauma since it was established. The timely and specialist care offered by the network gives patients the best possible chance of recovery. Thanks to the enthusiasm, determination and excellent partnership working between all of the teams involved, we are providing an absolutely essential service to people in critical need here in Wales."
As part of the implementation of the South Wales Trauma Network, a number of hospitals have taken on enhanced roles, including Morriston Hospital in Swansea becoming a Trauma Unit with specialist services.
Additionally, the network is supported by Trauma Units, Rural Trauma Facilities and Local Emergency Hospitals. Over 200 patients were repatriated to their local Health Board for continued care over the first year.
The network was established under work led by the NHS Wales Health Collaborative, in conjunction with Health Boards, the Welsh Ambulance Service NHS Trust, the Emergency Medical Retrieval and Transfer Service, Welsh Health Specialist Services Committee, Emergency Ambulance Service Committee, as well as Third Sector and Community Health Councils. Swansea Bay University Health Board hosts the operational delivery network which oversees the running of the South Wales Trauma Network.