Powys Teaching Health Board and Freedom Leisure have agreed to continue their partnership in support of the county's COVID-19 vaccination programme until the end of 2021.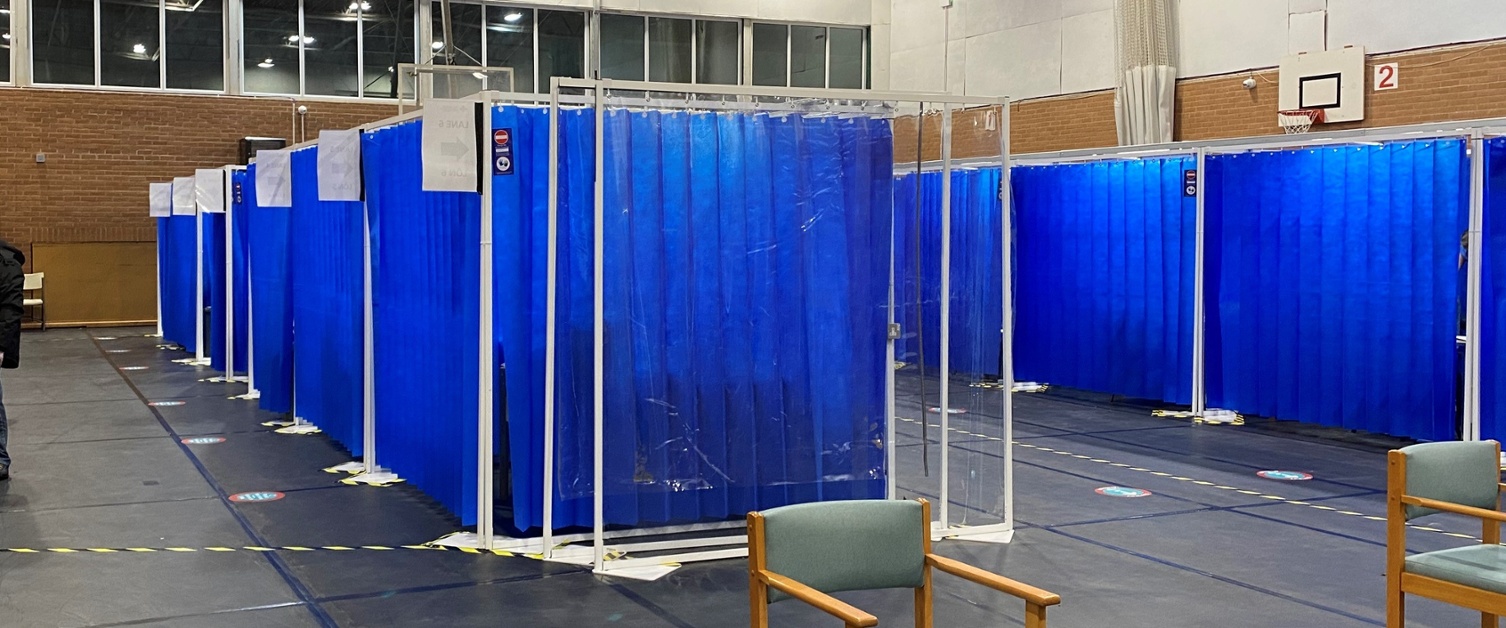 The COVID-19 vaccination programme in Powys has been one of the most successful in the whole of the UK. Already 91% of adults have received their first dose and 88.8% have received their second dose. These are the highest rates of any health board in Wales.
This has only been made possible through the incredible spirit of the people of Powys and partnerships between local organisations, businesses, and communities. One example of this is the partnership between Powys Teaching Health Board and the Freedom Leisure Maldwyn Leisure Centre in Newtown. At the start of 2021 the leisure centre and the health board worked together to create the county's largest vaccination centre. And, since the vaccination programme began, tens of thousands of COVID-19 vaccinations have been delivered at the centre on Plantation Lane. This began with first doses in January, followed by second doses from February. Over the summer the vaccination programme opened up to under eighteens, and now the focus is on delivering the booster programme as well as offering vaccination to 12 to 15 year olds.
Adrian Osborne, programme director for COVID-19 vaccination in Powys said: "Having a venue like Maldwyn Leisure Centre at the heart of the vaccination programme is absolutely critical. The vaccination programme has been heavily dependent on the Pfizer/BioNTech vaccine. At the start of the vaccination programme this vaccine arrived in trays of over 1100 doses that needed to be used within four days. It was therefore vital that the county had venues like the leisure centre that could accommodate very large numbers of people for vaccination in a short space of time. The Pfizer/BioNTech vaccine has very specific requirements for storage and administration. For example, everyone receiving the vaccine needs to sit and wait for 15 minutes afterwards, and this needs to happen in an environment that meets all requirements for social distancing and infection prevention and control. Only the very largest venues can accommodate the whole vaccination process of booking in, clinical assessment, vaccination administration, 15 minutes sit and wait, and checking out. Maldwyn Leisure Centre was the only venue in the north of the county that could offer us the capacity to deliver COVID-19 vaccination at large scale and at pace."
Mr Osborne continued, "I would like to share my personal thanks with Freedom Leisure, the team at Maldwyn Leisure Centre and its many customers and members for the incredible support they have given to the vaccination efforts in Montgomeryshire. Without them we would not have seen the successful roll out which this county can be truly proud of. I'm delighted that we have been able to agree to continue this partnership until the end of the year to deliver the vital booster programme which will help to keep people safe in the winter to come."
Gwyn Owen from Freedom Leisure said: "It has been a privilege to play such a key role in the delivery of the county's vaccination programme. Continuing the vaccination programme will help to ensure that all of us can return in time to all of the activities that we value. Over the next few months it's vital that we continue to support the vaccination programme through our leisure centre in Newtown, and this in turn will help to continue our journey back to normality in 2022."
Invitations are under way for booster doses. People who are eligible for a booster dose will normally receive their invitation between six and eight months after their second dose for an appointment in a mass vaccination centre. More information about COVID-19 vaccination in Powys is available from https://pthb.nhs.wales/covid-vaccine
Published: 22/10/21