SilverCloud Wales Online Therapy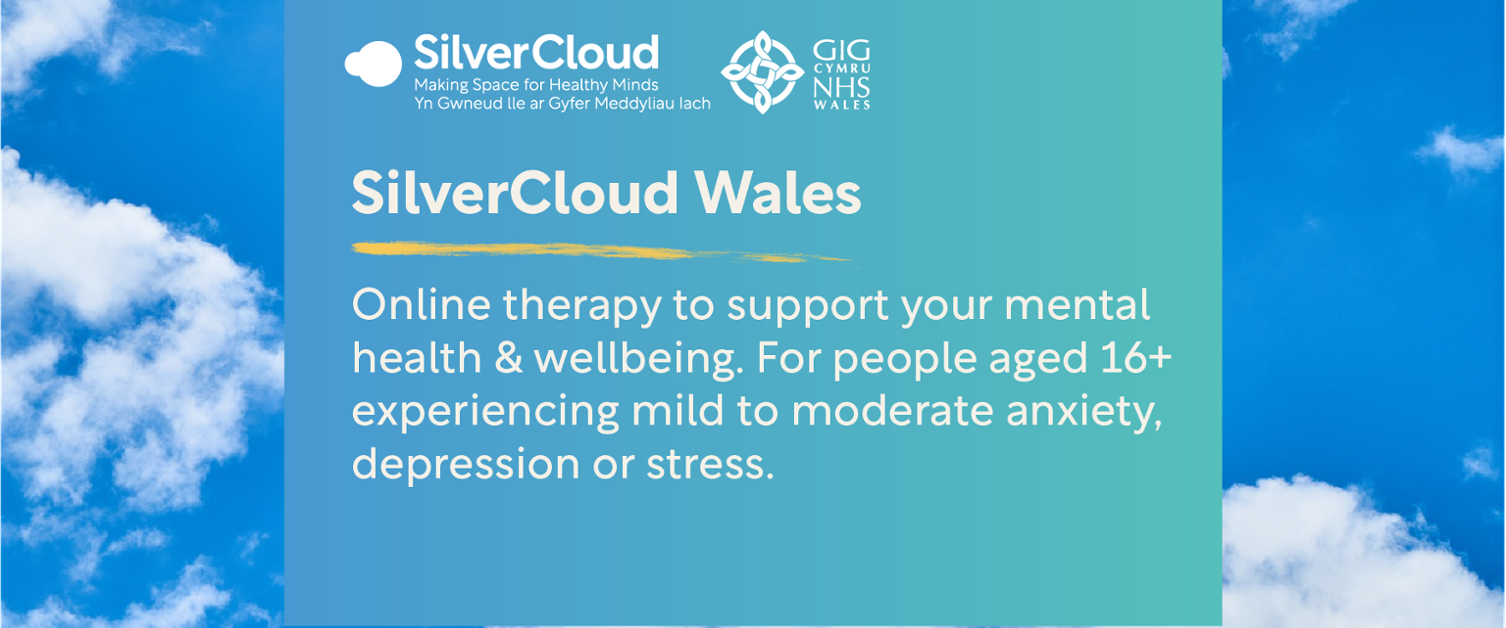 What is SilverCloud Wales?
Some 1 in 4 adults struggle with mental health challenges, like feeling low, anxious or stressed. SilverCloud Wales is an Online Cognitive Behavioural Therapy (CBT) service designed to support your mental health and wellbeing. CBT works by encouraging you to challenge the way you think and behave so that you're better equipped to deal with life's problems.
You can download the SilverCloud Wales programme booklet here.
Who is it for?
SilverCloud Wales Online Therapy is a self-help service. It is suitable for:
People aged 16+ with mild to moderate levels of anxiety, depression or stress AND

Who are registered with a GP in Wales or live in Wales AND

Who are not receiving secondary or tertiary mental health services (e.g. not under the care of a psychiatrist or psychologist).
When you sign up for the service, you will be asked to complete a set of questionnaires to help us ensure you meet the above eligibility criteria. In some instances, you may be asked to participate in a further telephone assessment. If you fall outside the eligibility criteria, please contact your GP for help finding the right service for your needs.
What do we mean by 'mild to moderate'?
Find out what we mean by mild to moderate with Holly, a psychological assistant for SilverCloud Wales.
How does it work?
Sign-up for the service online and access anytime, anywhere on your smartphone, tablet, laptop or desktop computer.
Choose one of the easy-to-use, interactive online mental health and wellbeing programmes to complete over 12 weeks. There's help for anxiety, depression, stress, sleep, money worries and more.
For best results use 15-20 minutes a day, three to four times a week. You'll receive fortnightly feedback from a qualified SilverCloud Supporter – one of the mental health professionals whose role is to support users of the service – as you work your way through your online programme.
How do I sign up?
SilverCloud Wales – The flagship service, available across Wales.

This is a self-referral service which means that you can sign-up directly, without having to be referred by your GP or other healthcare professional. Find out more and signup here: https://nhswales.silvercloudhealth.com/signup/.
OR
SilverCloud Blended – unique to P

owys residents.

Instead of being allocated an online SilverCloud Supporter, users receive face-to-face* support from an Online CBT Practitioner. To find out more and sign up, please contact:
-Ponthafren Association covering North Powys and Brecon & District;
-Mid and North Powys Mind covering Mid Powys;
-Ystradgynlais Mind.
*These may be telephone and email support sessions, depending on Covid restrictions.
OR
Powys GPs & Healthcare Professionals can refer patients to our service.
Whether you're a member of the public or a GP or Healthcare Professional, if you have any queries, please email Silver.Cloud@wales.nhs.uk or call 01874 712 428.
---